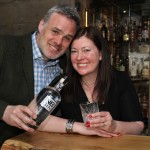 Established in 2013 by Steve and Vivienne Muir, NB Distillery partnered with us following 2 years of frustration trying to enter the US market via conventional routes. In just a few short months we sealed an exclusive deal for them with the largest alcohol retailer in the US.
The deal with Total Wine & More, will see two of their gin brands enter the market at the highest level with sales expected to be in excess of £4 million over the next five years.
Original London Dry Gin and Navy Strength, are now set to travel across the pond with Total Wine & More stocking the gins in all of its stores in New York, New Jersey, Florida and California, with additional states included later on this year.
Founder Vivienne Muir said: "We have been evolving and expanding throughout Europe and Asia in recent years, and to have the interest and 'thirst' from this retail giant is hugely significant in our growth plans.
"With the imminent opening of our new distillery and the switch to a 24-hour production process we can now easily satisfy the demand for the product range; so much so that our first US order will see a 40ft shipping container leave Scotland's shores.
"With only three other Scottish gins selected by the retailer, it's great for us to sit alongside the likes of Hendrick's and Tanquery, and indeed an exciting prospect for the Scottish gin market as a whole".
Founded in 2013 in the Scottish border town, NB gin was first produced in co-founders Vivienne and Steve Muir's kitchen.
It now produces two gins and a vodka and last year launched its own tonic water with soft drinks brand Bon Accord.
Vivienne Muir added: "This is only the start of our US journey, and as such we are keen to invite investment discussions to the table to help develop this opportunity even more and tap into the potential our proposition brings. We want to expand distribution even more, build the brand and overall maximise the platform Total Wine has provided us with.
"We are extremely passionate about our products and would now like to work alongside like-minded people who want to become part of our journey, who can help strengthen the US business and work with us to drive it forward".
Working directly with our retail buyer, we created a deal which maximises NB's margins and enables the company to maintain total control of their brand – a sharp contrast with conventional export models which typically hand control and the lion share of profits to third party distributors.
Total Wine will be stocking NB's London Dry Gin at US$34.99 per 75cl bottle and the Navy Strength at $44.99 per 75cl bottle. In the UK, the London Dry retails for £28.50 (Master of Malt) per 70cl and the Navy Strength for £41.95 per 70cl (Master of Malt).